Restore the more youthful you
What is Fractional RF Needling?
One of the most promising new technologies for aesthetic treatments is the combination of two methods previously used individually for skin rejuvenation, micro-needling and radiofrequency. This combination therapy, known as fractionated radiofrequency, is effective for improvement in acne and acne scars, as well as fine lines and wrinkles, both on and off the face. It can also be used for all skin types and is associated with minimal downtime and few complications.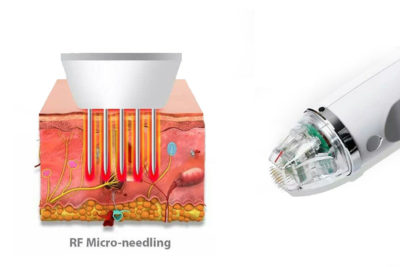 The treatment allows for precision in treatment through its ability to control the intensity of the energy, the depth of delivery, and the pulse duration. Insulated needles allow for sparing of the epidermis, and allows for its use in all skin types while decreasing the risk of post-inflammatory hyperpigmentation. Side-effects and downtime are significantly reduced compared to other energy-based devices used for skin rejuvenation.
How many treatments will I need?
Most clients see benefit following one treatment. We recommend 3-4 treatment sessions for optimal results.
What can I expect after Dermal needling treatment?
Your skin will be red and inflamed for about 24-48hrs, this will look and feel like sunburn.
Massage and excessive sun exposure should be avoided at this time. More aggressive treatments may result in skin flaking as the new skin layer regenerates. Moisturisers and a broad-spectrum sunscreen are highly recommended during this recovery phase.
What does it cost?
Each session will cost $650, this includes pre-treatment anaesthetic cream to make the treatment more comfortable. We also use top of the line post treatment products to penetrate the dermis and provide optimal recovery.
Confidence in yourself starts with confidence in us