Restore the more youthful you
Powerful lifting and contouring for face and body
This non-surgical and non-invasive face-lifting technology, works by stimulating your body's natural regenerative process by using highly sophisticated micro-focused ultrasound energy to rejuvenate the three critical levels of your skin's infrastructure, with no patient downtime. Powerful, micro-focused high intensity ultrasound waves are used to lift not just the skin, but also the deep muscle layers underneath. Ulfit tightens and lifts the skin on the neck, under the chin and jawline, the brow and around the eyes. It also treats fine lines and wrinkles, and wrinkling and sagging on the décolletage and body.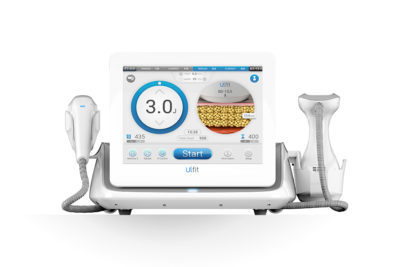 Our skilled nurses will target three key skin depths: 1.5mm, 3mm and 4.5mm.
Each depth is crucial: At 1.5mm, HIFU will smooth wrinkles and contour skin; at 3mm, HIFU will boost collagen, improve skin texture and minimize surface imperfections; and at 4.5mm, HIFU lifts skin targeting the SMAS layer (Superficial Musculo-Aponeurotic System)
SMAS is a continuous network of tissue extending from the neck up into the face, connecting facial muscles with the skin. SMAS is the layer of tissue that surgeons pull tight in a face lift procedure. During treatments we target the SMAS with high intensity ultrasound,, whilst this does not replace a facelift, it results in a non-invasive tightening and lift in the targeted area.
FAQ
Is Ulfit treatment right for me?
Ulfit treatment can help to rejuvenate your skin, improving skin texture which reduces wrinkles and fine lines. Ulfit can also help to contour jawline and jowls, reduce marionette lines and tighten specific body areas.
With the exception of a few medical contraindications, Ulfit is appropriate for all patients with aging skin concerns.
How long does treatment take?
Ulfit has been developed with a highly precise and efficient delivery of shots with accurate depths of 1.5mm, 3mm and 4.5mm.
Treatment times vary, depending on the area of treatment. Treatment for the entire face and body can be delivered in approximately 45 minutes. Treatment to individual areas of the face or body can be delivered in as little as 15 minutes.
How many treatments will I need?
Some people notice effect soon after treatment. True, long term results develop over time as old collagen is regenerated with new collagen. As this collagen regeneration process continues, improvement will be seen at approximately 6 weeks and continue up to 12 weeks after the initial treatment.
We recommend 2-3 treatments initially, then this can be maintained with a once yearly treatment
Is Ulfit treatment uncomfortable?
Ulfit is specifically engineered to minimize and discomfort during treatment. You can expect to experience some occasional discomfort as the ultrasound energy is delivered, but this is normally well tolerated
What does it cost?
Lower face and neck $650 per session
Eyes and brow $250 per session
Body POA based on area size and discussed at consultation.
Confidence in yourself starts with confidence in us